You've heard of carrot cake, but zucchini cookies?  Vegetables make a surprisingly delicious addition to sweets, in particular zucchini.  These cookies are just sweet and moist enough, and can substitute for a meal in a pinch.
My version of the zucchini cookie is about 25 years old and comes from a bed & breakfast in Galena, IL that was called The Comfort Guest House, I don't believe it's still there, but the cookies live on in our household.  For anyone who has visited Galena, you'll recall the rolling hills and historic charm.  It just seems appropriate that a healthy cookie be associated with a beautiful town embracing walking trails and overlooking the Galena River.  My father and his wife lived in Galena for years in a home that started its life as a church in the mid-1800s and was being used as a storage facility when they found it. With extensive renovation the brick building became a beautiful home for them and the community a close knit family.
The zucchini cookie has healthy rolled oats and fresh zucchini so it lends itself to a healthy snack or a quick breakfast.  Its more sugar than I would normally want for the beginning of the day. But is certainly better than going without that important meal.
You'll find that both adults as well as kids love these zucchini cookies.  For those kids turned off by seeing green in their cookie or hearing the word zucchini, tell them they are Shamrock Cookies, or Dragon Cookies.  Or if it's close to Christmas time add red dried cranberries (Craisins) and call them Christmas cookies. Yum!
When you make the zucchini cookies it's extremely important that you squeeze the zucchini dry. The first time I made these cookies they were delicious but literally wilted in your hand because of the excess moisture from the zucchini.  There are several ways to remove moisture.  The fastest and least messy way is to use a Ricer, it looks like a huge garlic press.  Not everyone has these around but I use mine for mashed potatoes so it's a staple here.  Just place the grated zucchini in the ricer hopper and squeeze the liquid into a bowl.  DONE!  If you don't have a ricer you can use a clean flour sack towel.  Just place the grated zucchini in a line down the middle of the towel, fold one side over the zucchini, then the other side and twist both ends of the towel so that it looks like a piece of candy or holiday "cracker".  Twist until no more liquid comes out.  The last suggestion to remove moisture is to place a strainer/sieve over a bowl and push the zucchini with the back of a spoon to remove the moisture.  No matter what method you use discard the liquid.
Bake and enjoy these "somewhat" guilt free zucchini cookies!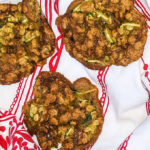 Zucchini Cookies
The zucchini cookie has healthy rolled oats and fresh zucchini so it can serve as a quick breakfast in a pinch
Ingredients
Wet Ingredients
1/2

cup

Canola oil

1

egg

large

beaten

1/2

cup

sugar

1/2

cup

light brown sugar
Dry Ingredients
1

cup

all-purpose flour

1/2

teaspoon

baking soda

1/4

teaspoon

cinnamon

1/8

teaspoon

nutmeg

fresh, if using ground use 1/4 teaspoon
Mix All Together
2

cups

rolled oats

also known as old fashion

2

cups

zucchini

grated and squeezed dry
Instructions
Preheat oven to 375 and line a cookie sheet with parchment paper.

Trim ends off zucchini and grate with the coarse side of a box grater or in your food processor. The zucchini needs to be squeezed dry at this point or your cookies will be too moist and won't last as long. You can use a ricer (like an oversized garlic press, easiest method) or lay the grated zucchini in a clean flour sack kitchen towel and wring the moisture out of the zucchini. See blog above for extra tips.

Combine oil, egg, sugar and brown sugar in a large bowl.

In another bowl combine the flour, baking soda, cinnamon and nutmeg. Add these dry ingredients to the wet ingredients. Stir in oats and zucchini.

Drop a tablespoon of dough (it will be thin) onto the parchment paper lined tray and bake for 15 minutes, until lightly browned.

Recipe Notes
Storage:  Cookies will only last a couple of days at room temperature.  I prefer storing them in the refrigerator which will keep the cookies about 5 days. 
Freeze:  Freeze the cookies in a single layer.  Once frozen, place in a zippered plastic bag, press as much air out as possible and freeze up to 3 months.  You can pull these treats straight from the freezer and defrost on the counter or reheat in the toaster oven at 325 for 10 minutes or just 30 seconds in the microwave.
Save