Chicken salad is a classic summertime treat.  This chicken salad recipe uses traditional ingredients with a twist.  Freshly cooked chicken folded in mayonnaise and juicy grapes.  Chicken salad sliders with grapes are small so are the perfect size for a snack, a child's lunch or even a party.  At a party so much goes to waste because of full size portions, serve these slider versions for a crowd, just the right nibbler portion.
How to Make Chicken Salad with Grapes
This is a great recipe to use leftover chicken.  If you are anything like me, we have chicken at least 3 times per week and I am always looking for different ways to use the leftover chicken instead of just reheating the same old recipe. Boring!  If the leftover chicken has strong seasonings on it you may want to rinse the chicken under some water to lessen the strong taste.  If the chicken has seasoned skin on it simply remove the skin, you would want to do this anyway because who ever heard of a chicken salad served with skin?
These chicken salad sliders with grapes are the perfect size, talk about portion control.  And with mayonnaise involved most of us need portion control.  Somehow having 2 or 3 cute smaller sandwiches is more fun and inviting than one big ole sandwich.  Also the smaller sliders make it much easier to eat, with larger bread the chicken salad typically falls out and onto your plate, or worse your shirt.  These are one handed sandwiches…..two handed for little guys.
If you don't have leftover chicken then follow this poached chicken recipe for a quick way to cook the chicken that keeps it nice and moist.  Chicken salad with dried out chicken is not tasty.
How long will chicken salad last?
Keep in mind how long the sandwich will be kept before eating and what kinds of temperatures it will endure.  Since the chicken salad sliders with grapes has mayonnaise in it you will have some considerations to keep in mind.  The sliders or salad should not be eaten after 2 hours out of the refrigerator.  If you will be eating at a longer interval then make sure to include an ice pack with it.
Chicken salad sliders with grapes still make a great picnic option for Labor Day, Fourth of July or any outdoor event, you just need to make sure that the salad or sandwiches are kept cold until you are ready to serve them.
Chicken salad with grapes will last 3-5 days in the refrigerator and does not freeze well.
What Goes With Chicken Salad Sliders with Grapes?
That depends on when and where you will be eating it.  If you are on the go it's best to keep the sides simple.  Chicken salad sliders with grapes already have fruit in it, but a simple side of another fruit is refreshing and offers a different taste than the grapes.  Prepackaged mandarin oranges are perfect for office or school lunches, or add strawberries (I like to just take the greens off the top and not slice as they will start to macerate), cubed cantaloupe, apple, sliced and salted cucumber slices or tomato slices, nuts, pickle (in its own bag so the juices don't make your sandwich soggy) or the simple string cheese stick.  Pick one of these sides and you will be good to go.
Some other sides that go well with chicken salad sliders are herbed green beans served cold or a dressed green salad.
Chicken Salad in Under 15 minutes
Chicken salad sliders with grapes have just a few ingredients but deliver on taste.  It's simply chicken, seedless red grapes, celery, mayonnaise, lemon juice and salt and pepper.  Fold all of these ingredients together and pile onto a little slider bun.  Done, in under 15 minutes you have lunch or a snack ready.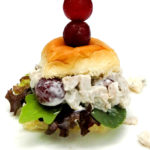 Chicken Salad Sliders with Grapes
Ready in under 15 minutes, these bite size sandwiches are the perfect portion control

Ingredients
3

Cups

Cooked chicken

4 thighs or 2-3 breasts

1/2

Cup

Mayonnaise

2

Cups

Red Grapes

halved

3/4

Cup

Celery

diced

2

Tablespoons

Lemon Juice

fresh

1/2

teaspoon

Kosher salt

Lettuce

optional

12

Whole

Hawaiian Rolls
Instructions
Dice cooked chicken into ¼" cubes or thin slices. If you need directions to poach chicken click here.


Mix all ingredients together. Serve on small slider buns, King's Hawaiian rolls or small subs or serve over greens in a bowl.
Save
Save
Save
Save